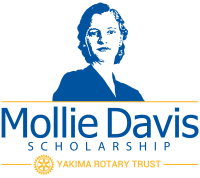 Scholarship Application & Program Information
In December 2008, Mollie Davis passed away leaving an educational bequest of $20 million dollars to fund two and four-year scholarships to benefit residents of Yakima County.  The Yakima Rotary Trust was named the administrator of the scholarship program. The funds are managed by the Yakima Valley Community Foundation.
Mollie Davis Scholarship Application
The Mollie Davis Scholarship program awards up to $7,500 a year and up to $30,000 overall toward a Bachelor's Degree. In addition, we award up to $3,500 a year toward an associate's degree.
The application period begins 12/1 and closes 2/22 each year.
Qualifications & Supporting Documents
This amazing opportunity to be a recipient of the prestigious Yakima Rotary Trust Mollie Davis Scholarship can be yours.
A Yakima County resident (May be away while attending college)

(a) high school senior or (b) high school graduate (c) GED certificate holder (d) currently enrolled college student

Enrolled in full-time undergraduate study at a two or four-year college/university for and pursuing a first associate's or bachelor's degree
Supporting documents needed for application
Student Aid Report (Results from FAFSA)

Proof of Residence in Yakima County

May need – High school transcript or copy of GED certificate

May need – College transcript
Mollie Davis Scholarship Application Scoring
Resume: 25% (Community Service, Extracurricular Activity and Employment)

Essay: (15%) in round two scoring