Making our Community
a Better Place to Live
Yakima Rotary Trust is proud to support projects that create a long-term impact in our community.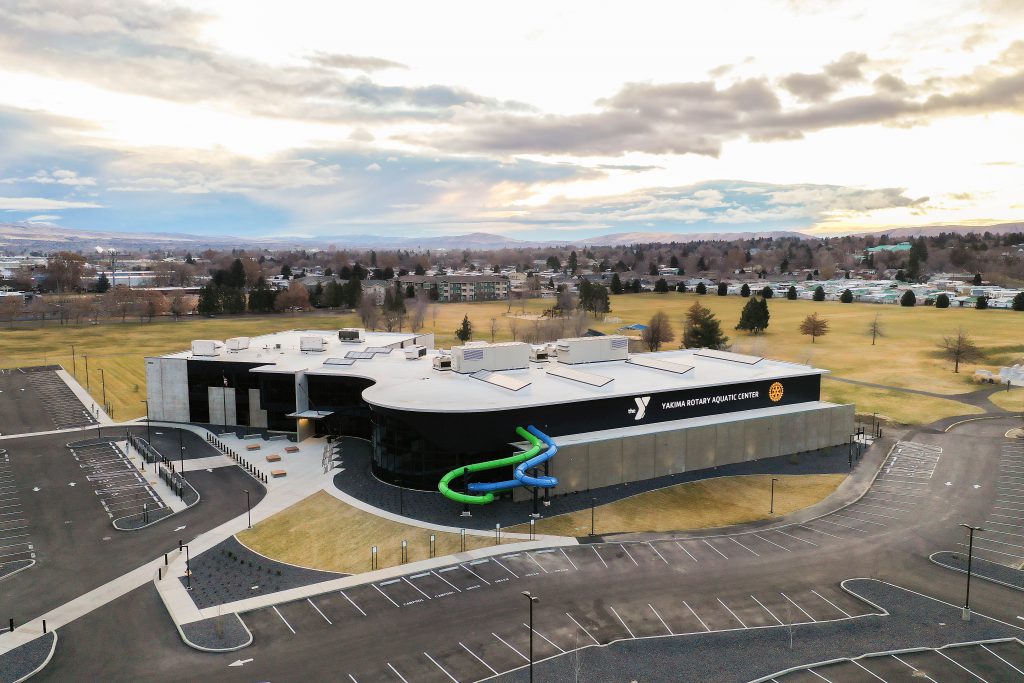 Yakima Rotary Aquatics Center — at Chesterley Park
The City of Yakima, Yakima Rotary Clubs and the Yakima Rotary Trust joined forces with the YMCA to create the Yakima Rotary Aquatics Center at Chesterly Park, which was completed in 2019.
SOZO Sports Complex
Yakima Rotary Trust is proudly supporting First Tee of Yakima at the SOZO Sports Complex in west Yakima. Yakima Southwest Rotary Club pledged a total of $65,000 and received a Rotary District 5060 grant for $10,000 for the project in the fall of 2017. Early in 2018, Sunrise Rotary joined in with its own contribution of $20,000. The Yakima Rotary Trust pledged $95,000 for this amazing project.
In addition, Yakima Rotary Trust contributed $100,000 in 2016 to the SOZO Field project.
Yakima Rotary Food Bank
In 2015, Yakima Rotary Trust supported the construction of the Yakima Rotary Food Bank located at 703 Central Avenue just south of the Southeast Yakima Community Center. Thanks to the generosity of the Yakima Rotary Trust, the Yakima Rotary Food Bank dedicated a brand-new building in November 2014 and changed the name of the food bank to the Yakima Rotary Food Bank.
Randall Park
Yakima Southwest Rotary, Sunrise Rotary, The Rotary Club of Yakima and the Yakima Rotary Trust along with the City of Yakima worked together to bring these amazing additions to Randall Park.
Rotary Wildlife Viewing Platform
Rotary Playground
Rotary Basketball Courts
Two family picnic shelters
Gateway Sports Complex
The first project undertaken by the Trust was a collaboration with the Kiwanis and Lions Trusts for the de­velopment of Kiwanis Park located in Southeast Yakima. Community benefactor Helen Jewett contributed $100,000 to each Trust, and the late Senator Alex Deccio in concert with the City of Yakima and the State of Washington obtained additional funding. When completed $217,000 in bequests to the Yakima Rotary Trust turned into a $5 million-dollar project called the Gateway Sports Complex. The evolution of the park has been phenomenal. A playground, basketball court and picnic shelter were constructed in 2010 by the three Yakima Rotary clubs. In 2012, on adjoining land purchased by the Yakima Rotary Trust, three lighted fields for youth softball along with a full-service concession stand were added.
The Gateway Park Sports Complex is a "destination" for teams and families from around the Northwest and further. The seed, which started with just an idea, now assures that our community and youth are better served.